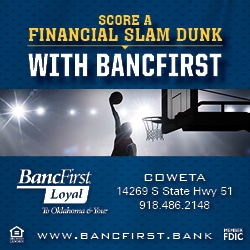 Tye Lair is senior guard for the Coweta varsity basketball team. His passion for his team and teammates is unwavering. He will do whatever is asked of him and will do it the only way her knows how; 100 percent invested.
"Voluntary sixth man a year ago, Tye is the Tigers' sniper, and his nickname is "The Pistol" for e reason," said coach Brandon Maddux. "Tye made an ultimate sacrifice last year, by offering to come off the bench. He definitely made a sacrifice for the betterment of the team. Tye definitely deserved to start last year, but when approached about coming off the bench, he replied, "Coach, I will do whatever this team needs me to do." That is a true TEAM player!
Tye Lair is the Unsung Hero of the Coweta boy's basketball team!