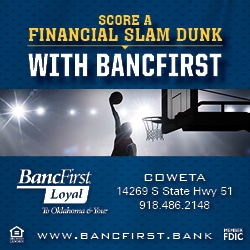 Most athletes will tell you that while it takes a lot of work to become your best, it is also something that you cannot do alone. Parker Stephens says that while he has had a lot of support over the years, there are a few people that he says have had the biggest influence.
"The biggest influence on my sports career is my dad," he said. "When I was younger he was my coach and he pushed me and developed me to be my best. One other influence on my life is my previous coach, Micheal Umelo. He was my coach for three years and developed me into a center back. Sergio Ramos is my soccer role model because I try to base my play style off of him."
Stephens is a junior at Coweta High School, where he plays multiple sports for the Tigers. He plays center back and center mid for the school's soccer team, while on the football team he is the kicker.
Becoming the player that he is today has not been easy but Stephens knows that his hard work will pay off.
"It has taken countless hours of dedication, hard work, and pure sweat at practices and especially when no one is watching. That is what has gotten me to where I am today."
The highlight moment of his career was when he won Most Valuable Player award at a soccer showcase tournament.
Along with playing sports for Coweta, Parker is also a member of the National Honor Society. He was captain of the soccer team as a sophomore and will be again this season. He also plays for the TSC 05 ECNL club soccer team.